Lighting Your Landscapes: A Warm Glow As The Nights Draw In
11 November 2021
Making the most of your garden means extending the joy it brings you well into the evening as natural light fades. One of the elements your professional garden designer and landscaper will ask you to consider is how your garden will be used beyond dusk; for entertaining and a little R&R perhaps? Let's focus on Outdoor Lighting.
Choosing your outdoor garden lighting
Whether it be a feature to highlight, levels to illuminate or a blanket glow, lighting can not only extend visibility and function outside, but can expand your interior space and outward views too. No more "black-mirror" windows; instead, a cleverly lit outlook for your outdoor space.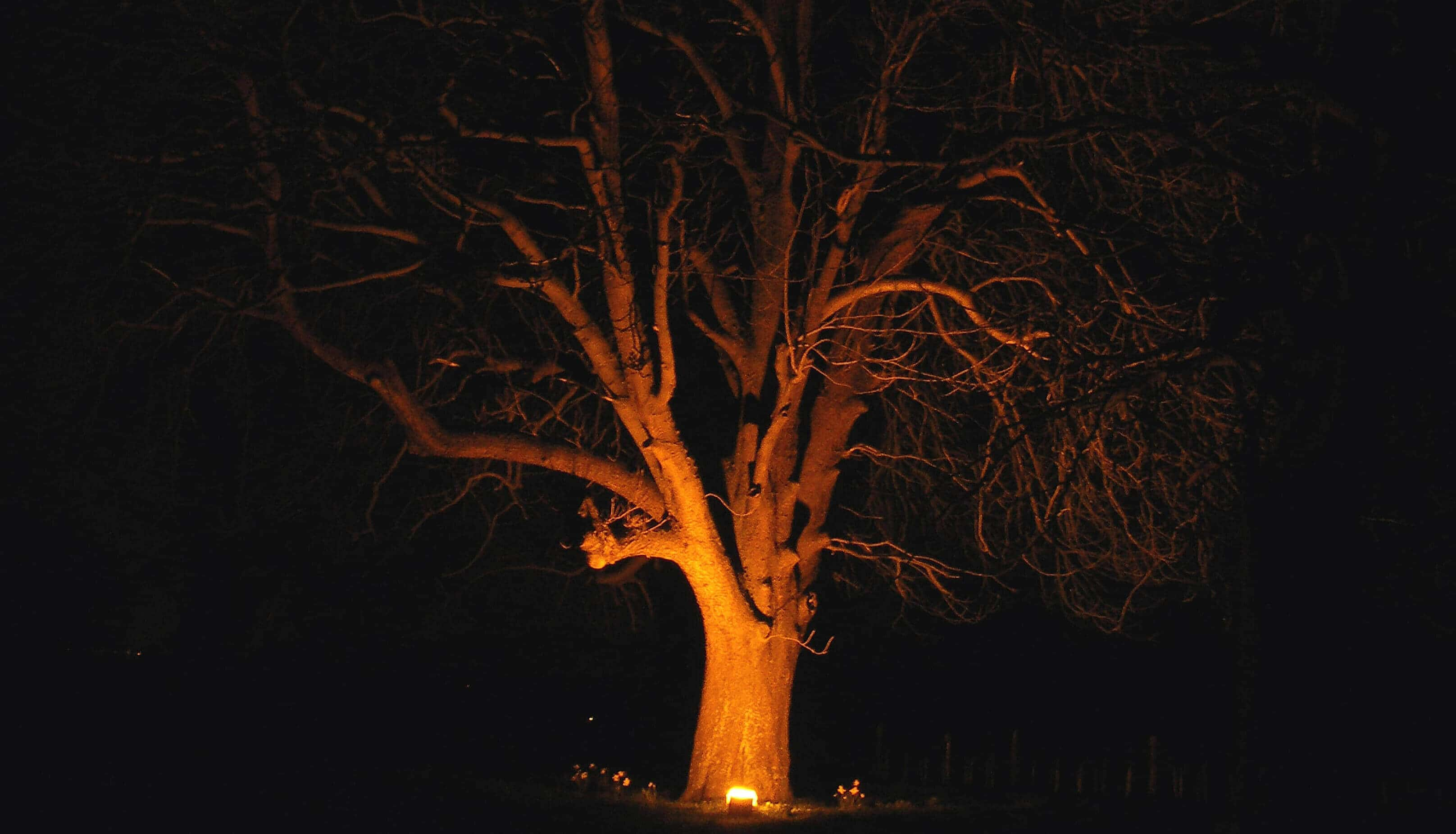 Plan and purpose
Your Haywood Landscapes design and build professional will shed some invaluable light on the options. The best starting point for lighting is the Why and the What. Is security lighting a factor? Are you looking to highlight level changes for safety? Do you want a soft glow in your outdoor dining or entertaining area? Work with your Haywood garden designer closely at the outset and the results…will be illuminating!
Layer, blend or spotlight
Avoiding glare and overpowering beams, explore downlights and subtle low level lighting to blend different layers and add hidden dramatic effect – discreet lights along steps, for example, can add a hidden wash of light and ensure safety at night. Less is more – do not be tempted to floodlight or overdo your lighting, making your planting and features look sickly or washed out.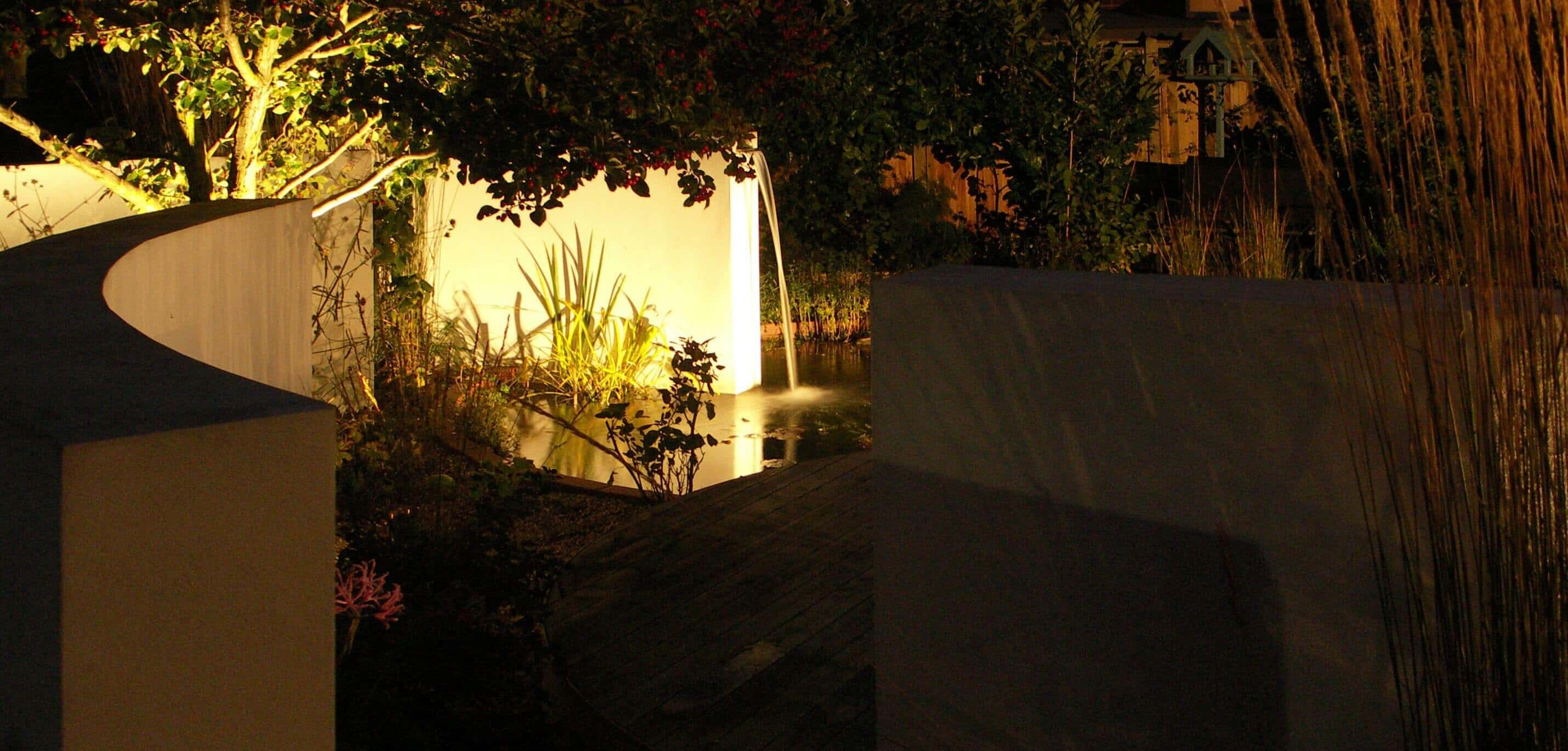 Subtle brilliance
Bringing your daylight garden to life at night takes creativity. Some of the most spectacular of night gardens designed and built by Haywood Landscapes feature focal lighting, nestled cleverly amongst plants, uplighting trees and creating intricately beautiful branch and canopy shadows.
Safe and secure
Lighting choice might appear straightforward, but selection and installation requires a professional eye. Combining design, construction and lighting skills calls for a design and build landscape contractor who understands and values its importance. From sensor-activated security lighting to LED's and waterproofing, a lighting plan meeting the latest regulations should be an integral part of the build. Only then can you be assured that you are lit safely and for the long-term.
You're in control
It might be an app. It might be a switch. It might be a daylight sensor. Think carefully about where and how you would like to activate your lights. Typically accessing gardens from the rear, choose a garage or garden-facing room position for your controls.
Your budget will also be a factor. Most lights are now LED, with powerful, energy-saving bulbs made to last. Pay once for superior quality fittings too, with finishes to match the wider landscape design in dry powder coated metal, copper or stainless steel. Your designer will have an eye on the latest trends and products; good quality fairy or festoon lighting swathes can have an ethereal effect along a fence or structure for a modest cost.
Bring on the brilliance
Ready to trip the light fantastic?! Get in touch with Haywood Landscapes here, a shining example of garden design, build and lighting excellence demonstrated in beautifully lit outdoor spaces across Kent and the South East.