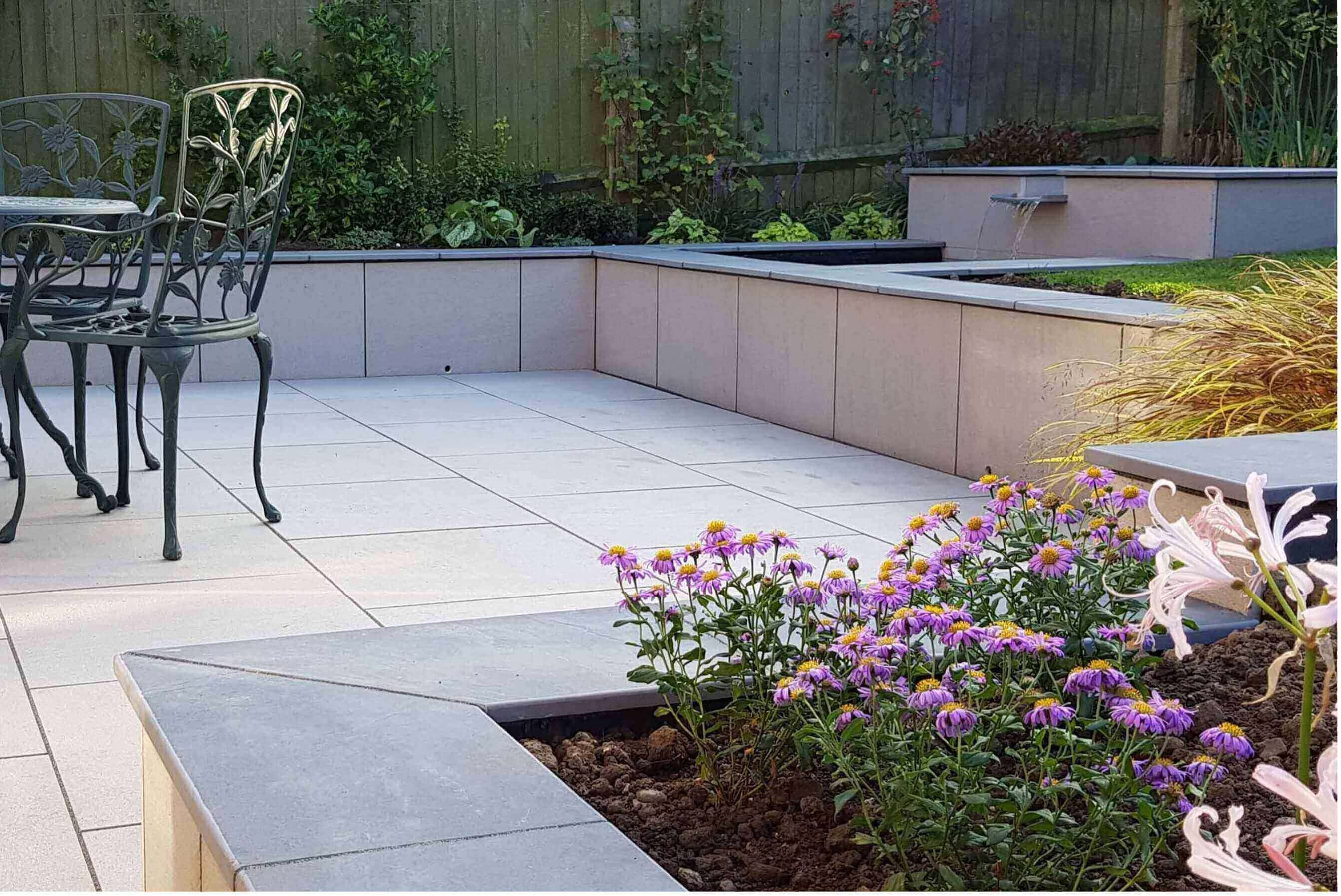 What Will Be The Top 5 Garden Trends For 2021?
15 February 2021
Our home and garden is our world now
More than ever our gardens have become a vital space for relaxing, play and refuge. As a result there is an increased interest in improving the garden environment. So what are likely to be the trends this year?
1. Contemporary Style
For a long time, popular garden design has been somewhat backward looking with many client's dream garden evoking 'cottagy' abundance with serpentine lines and traditional looking natural stone patios (or more commonly concrete look-a-like versions). Busy lifestyles and a sense that modernity is something to embrace rather than recoil from has gradually shifted tastes towards simpler, cleaner low maintenance gardens with a strong more geometric design. This is reflected in the new materials now available such as composite decking and porcelain paving.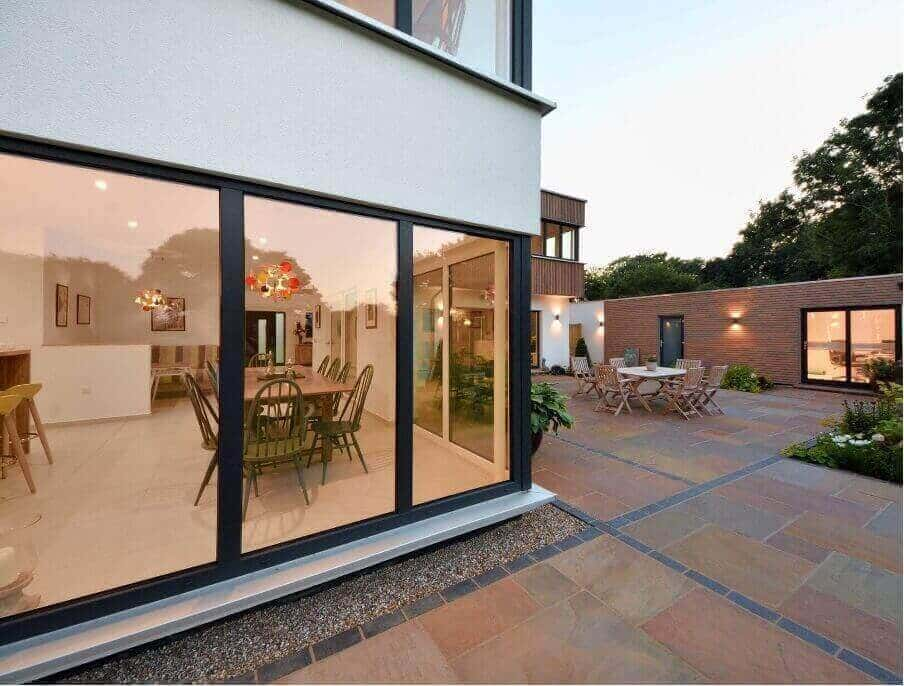 Clean Lines give a contemporary feel to this courtyard area. See the full project at https://www.haywood-landscapes.co.uk/gardens/a-large-garden-great-visual-and-natural-impact-to-complement-hanse-haus-home
2. Composite Decking
Developed with thousands of poor quality badly installed softwood decks being built. Many became disenchanted as their decks went green and slippery and started to rot. Composite decks have sparked new interest. These are mostly made from recycled wood fibres and plastics. They are generally durable, non-slip, low maintenance and resistant to mould and algae. A wood grain finish is common and they are available in different colours. Do they look like real wood? for the most part not quite, but if you are looking for a clean contemporary style, they are very pleasing all the same.
3. Porcelain paving
Indian sandstone has been the go-to paving materials for some years now with a traditional riven' finish and soft edges. Porcelain has now exploded onto the scene offering a cleaner contemporary look. It is available in a wide range of colours and finishes and can also be used for cladding and capping of garden walls to give a coherent look to a garden area. Other benefits are that it is virtually impervious to water and so less inclined to attract algae and dirt. This means it is non-slip, easy to clean and keep clean. It was a premium cost product on its introduction a few years back but prices have come down a lot making it both desirable and affordable.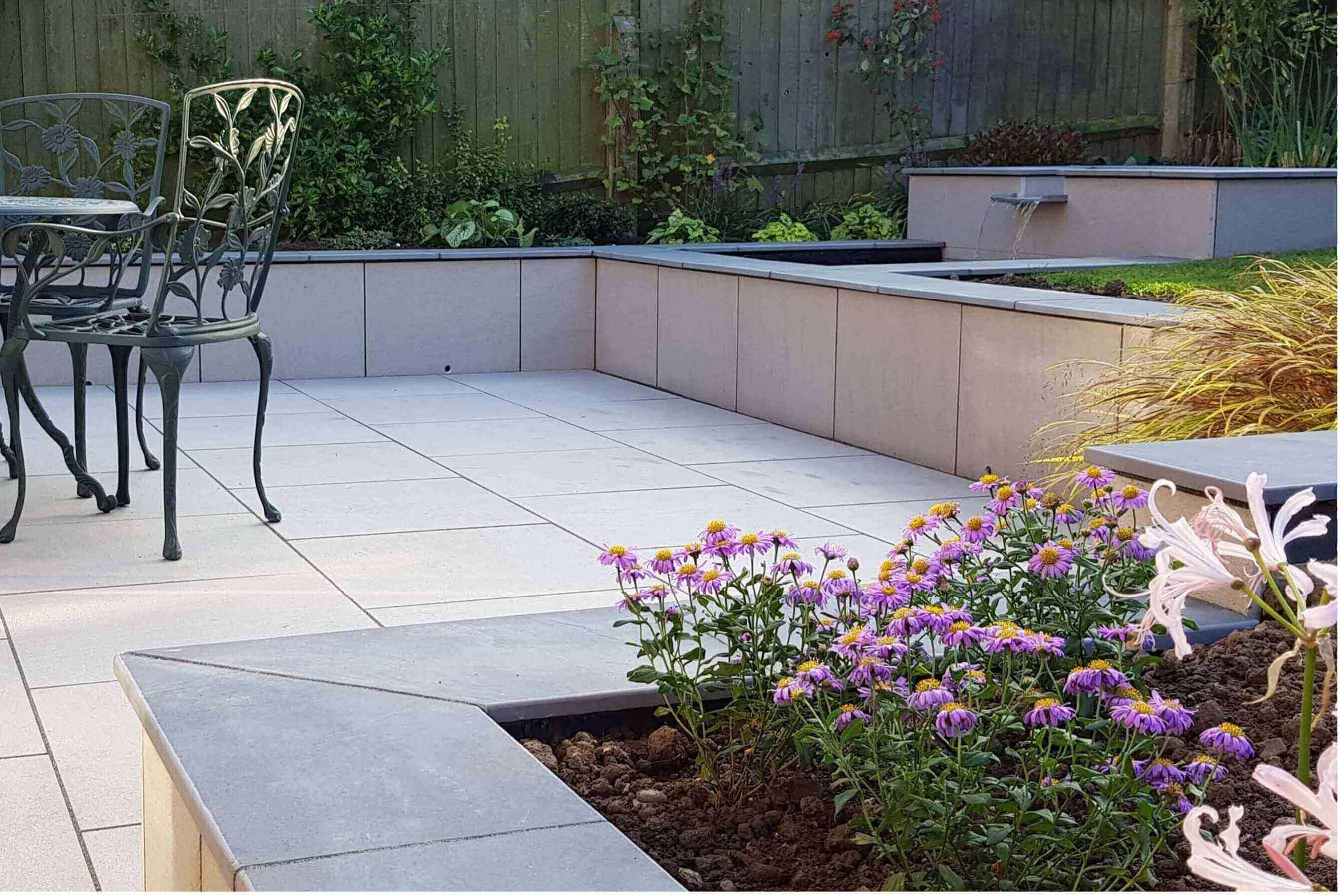 Porcelain can be used for paving, cladding and capping of garden walls to give a coherent look to a garden area. See this project and more beautiful patios at https://www.haywood-landscapes.co.uk/patios
4. Artificial Grass
Appealing to a desire for low maintenance in busy lives, artificial grass is becoming very popular. The highest quality products look increasingly more natural. However, as the 'market' develops so does bad practice with some contractors (or homeowners) not installing correctly and using low quality 'butchers window' products. Correct installation involves laying as if it were a patio with geotextile membrane, a foundation, bedding layer and edge restraints. This means it's a high-cost alternative to a natural lawn.
It has to be said of course that the highest cost is to the environment. The products are not re-cyclable at the end of their life and use of artificial grass results in the loss of an attractive, natural, rich biodiverse environment - the natural lawn. On some sites where there are real challenges such as insurmountable drainage issues or a need to have a safe and clean play surface all year round, the appeal of going artificial is understandable, but otherwise is there an alternative? Well yes, It's get the mower out! If this is perceived as onerous maybe it could be seen as valuable exercise and an opportunity to be out in nature? To maintain a high a quality lawn it is necessary to do more than push the mower across it, but there are many companies offering full lawn care programs, and it is not expensive.
5. Aiming for Carbon Neutral
Saved to last this should really be first and is more the authors' hope than an identified trend. We are all now aware of the perilous state of our environment and the need to care for it and its other inhabitants. Modern gardens are now, more than ever, outdoor living areas for which we demand an array of manufactured or processed products, in particularly paving and other built structures. These typically use non-renewable natural stone or concrete which has a very a high carbon footprint. So what can we do this year to reduce or offset that? This is a massive subject for a short piece (and will be revisited in a blog of its own) but here are a few considerations:
Recycled Products - Composite decking often contains around 95% recycled materials. For drives or hardstands, in place of concrete block paving, use recycled polypropylene stabilisation trays. These can be filled with either natural grass or shingle and will allow rainwater to drain freely into the ground rather than run off and be lost into the drains. Recycled plastic products are also starting to become available for fencing. These are currently expensive but timber is becoming increasingly so too and an advantage of plastic is its' durability as it doesn't rot like timber.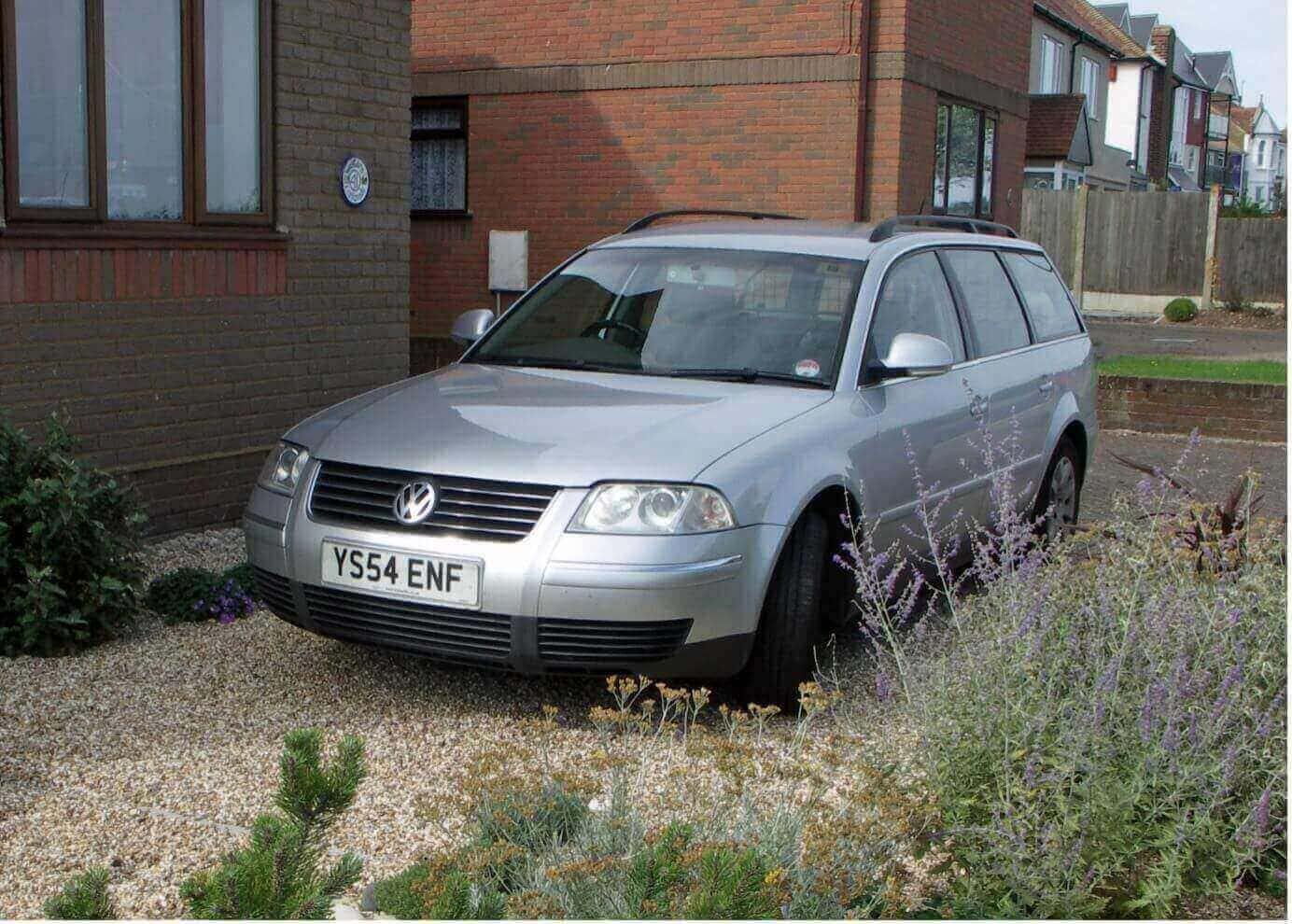 Stabilised gravel provides a natural looking yet firm surface with a low carbon footprint. It works with grass too! see here - https://www.haywood-landscapes.co.uk/stabilised-gravel-and-grass-surfaces
Carbon Offsetting – Plant trees to absorb Co2 and also benefit from their shade, screening and shelter. Support the dwindling populations of birds, bees and insects by planting shrubs and perennials. These will all also reward us with their beauty, fragrance and aid wellbeing when we spend time amongst them. For successful planting schemes good planting design is important (right plant, right place. right space!). The more green-fingered may enjoy the process of designing and planting their garden but otherwise professional help will ensure a beautiful and manageable planting scheme.
The Carbon Footprint - Measuring the carbon footprint of our lifestyle choices is complex. In the context of our gardens, product carbon footprint (PCF) values of some products are now given and software already exists for calculating the carbon footprint of entire landscape projects. So, going forward we should be able to make informed decisions about what we put in our gardens and sustainable design will hopefully become a significant and measurable consideration for the professional garden designer and their clients.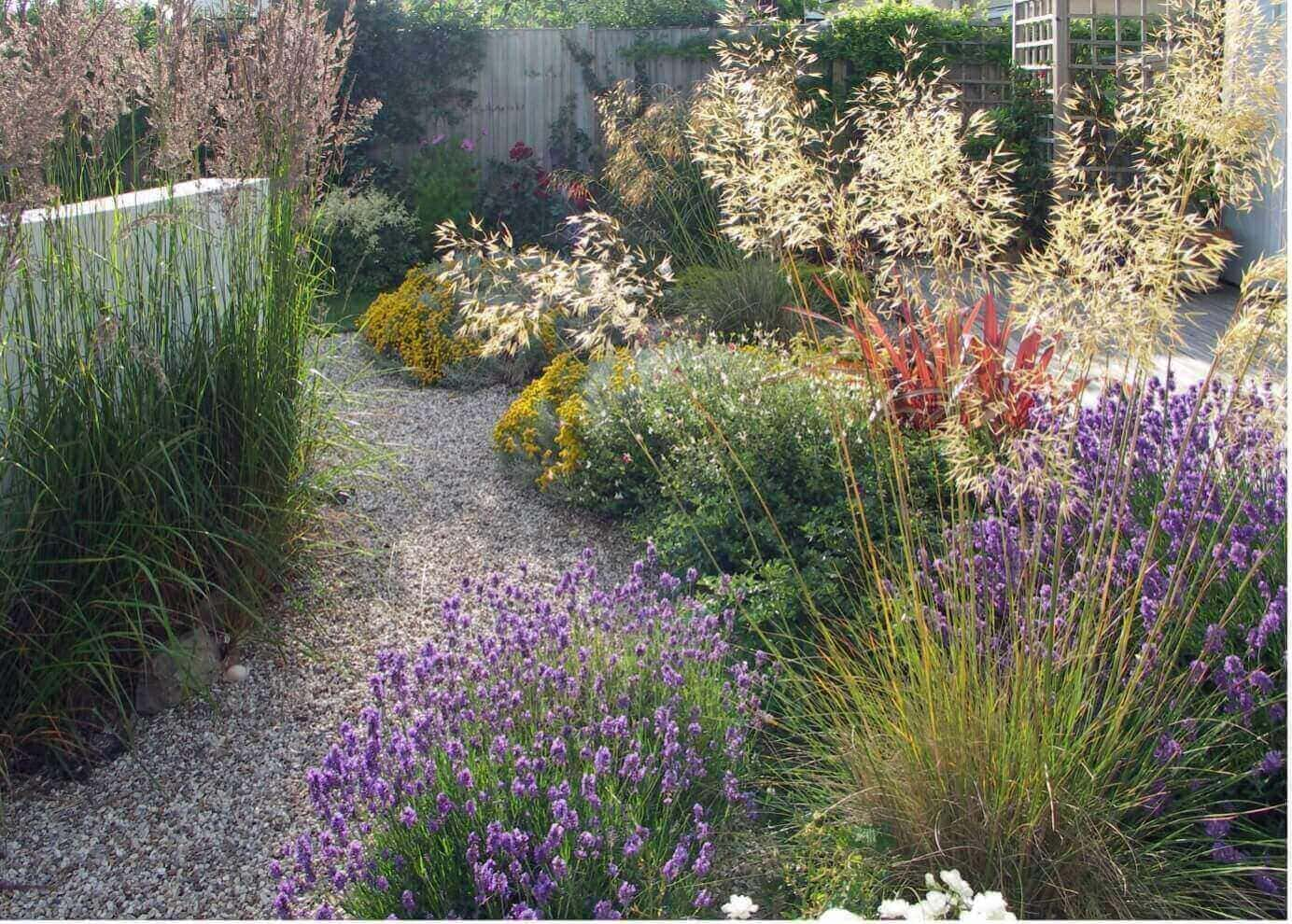 Good planting design makes for ease of management and a beautiful garden. See more examples here https://www.haywood-landscapes.co.uk/planting-schemes
For your garden design-and-build solutions for 2021, contact us here, call us on 01227 733447 or email us at info@haywood-landscapes.co.uk