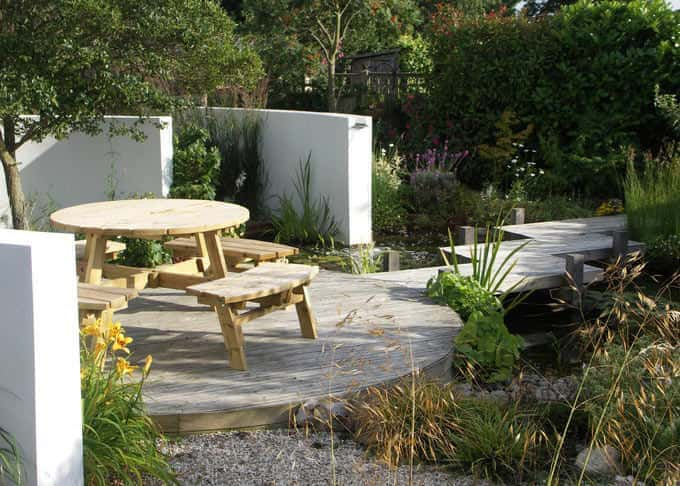 A screened sitting area provides the perfect spot to admire the pond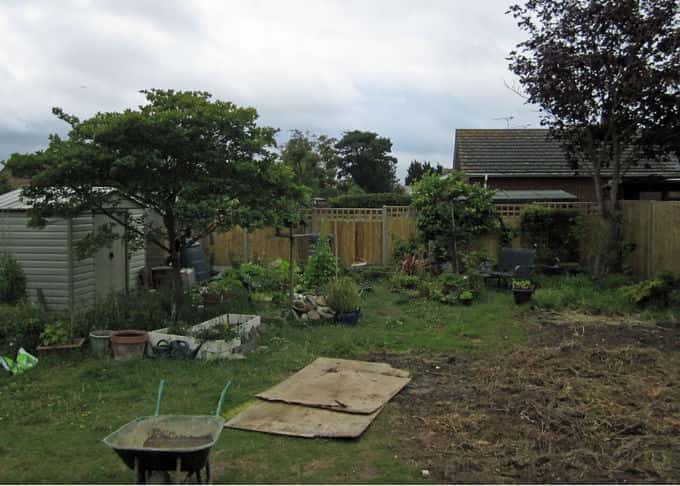 Contemporary wildlife garden before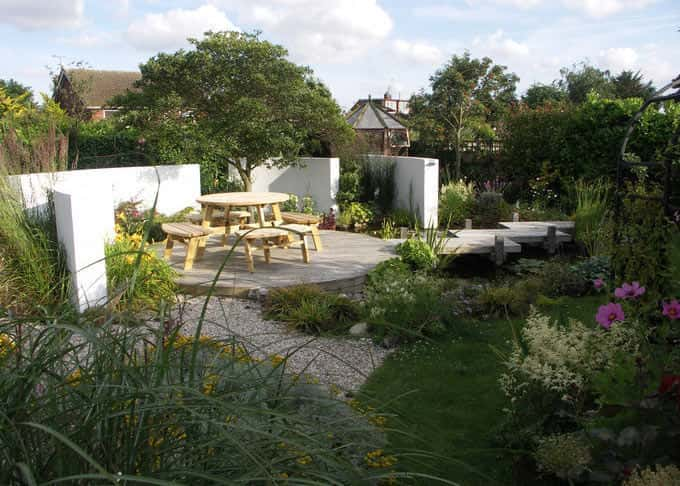 Contemporary wildlife garden after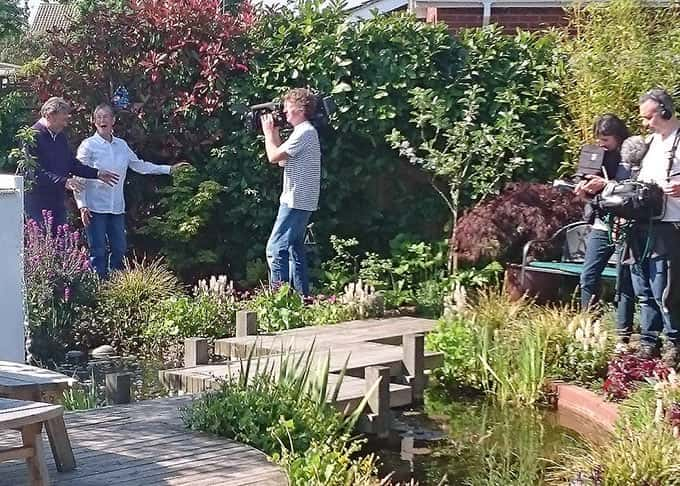 Filming with Alan Titchmarsh for ITV's 'Love Your Garden'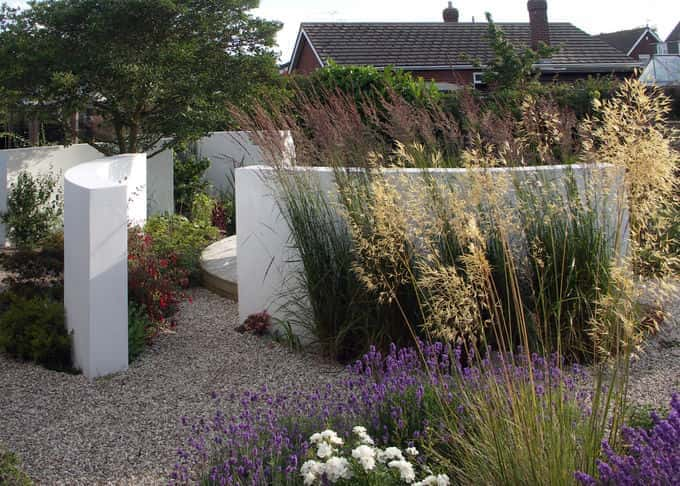 The screen walls form a foil for soft airy grasses and flowers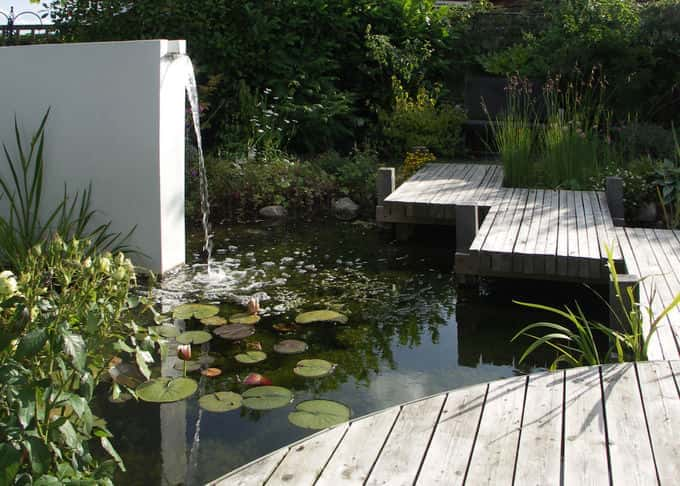 A Japanese style Yatsuhashi bridge spans the pond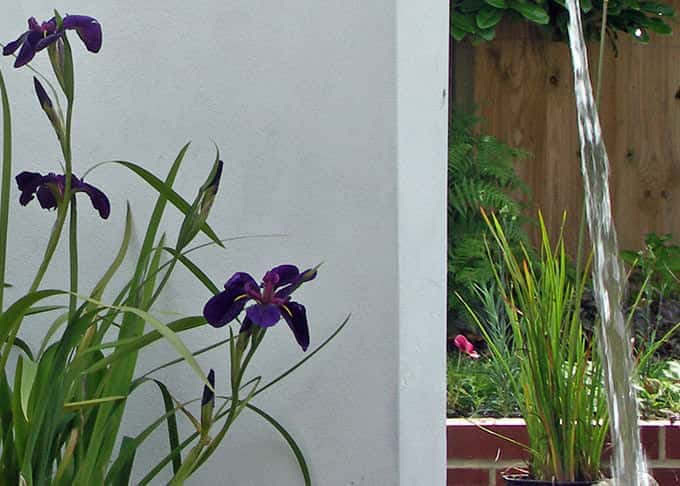 Iris flowers look stunning against a white rendered wall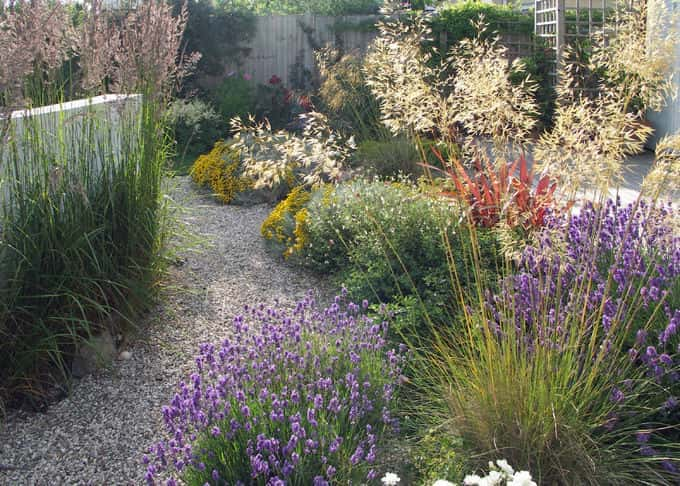 Stabilised gravel paths meander through the beautiful borders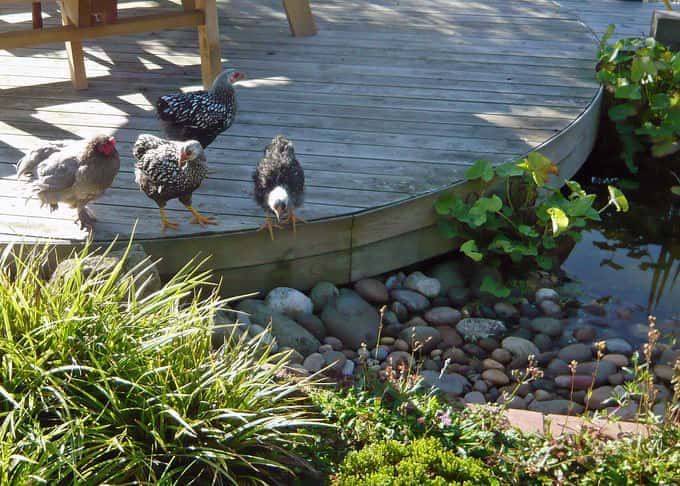 Some garden inhabitants enjoy the morning sun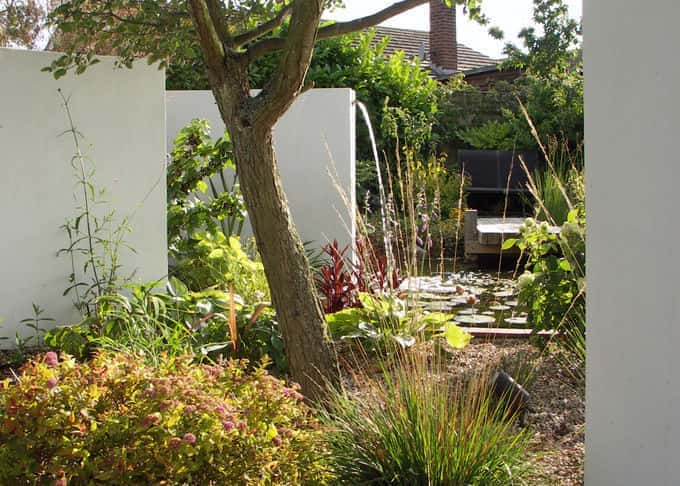 The screen walls frame ever changing views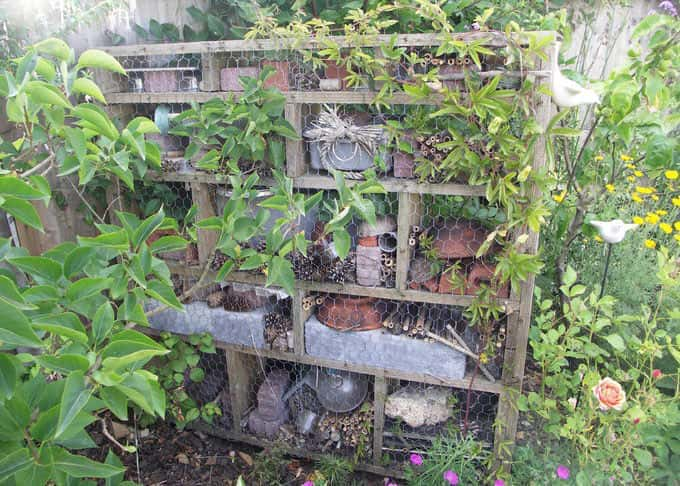 A bug wall introduces some abstract art and provides a variety of wildlife habitats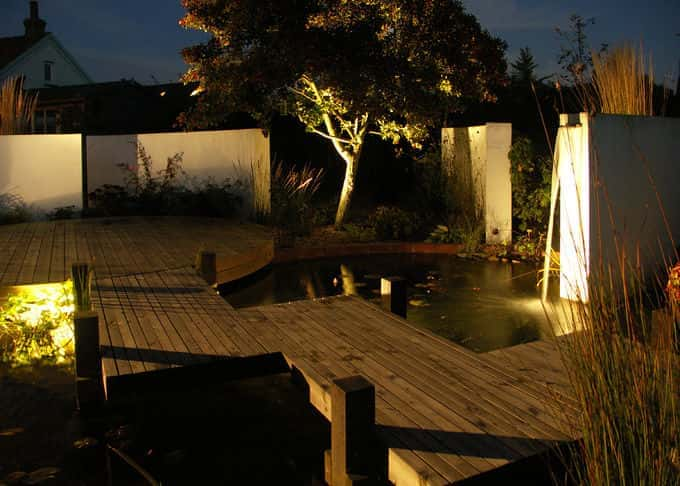 Lighting provides safe crossing of the Yatsuhashi bridge by night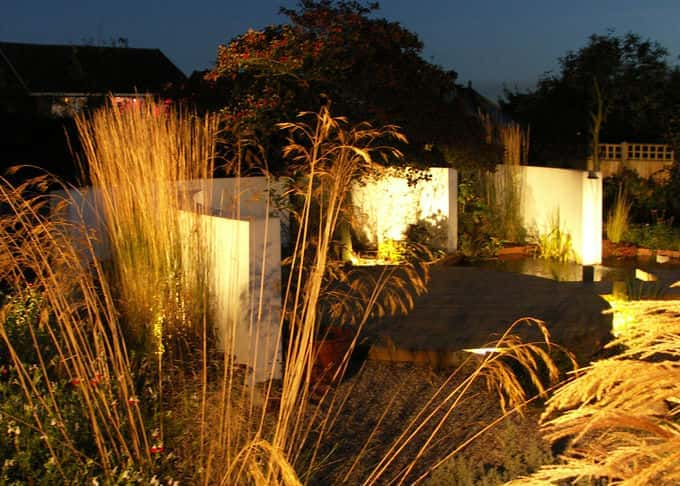 The counterpoint between solid form and elegance is highlighted when the sun sets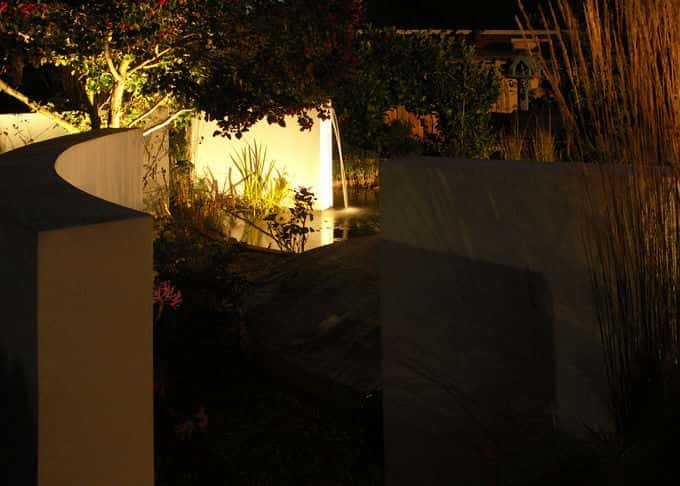 The eye is lead to a most striking view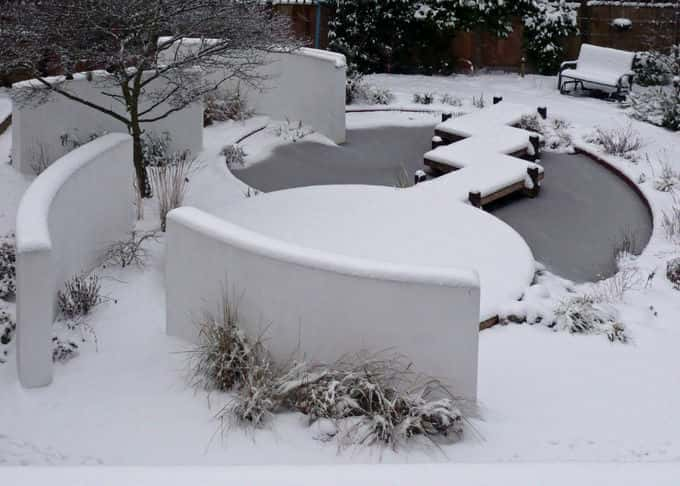 A blanket of snow highlights the stark beauty of the walls as they spin out from the pond
A Contemporary Garden For Wildlife
Our client wanted a garden that would attract wildlife but not a textbook wildlife garden. She was keen to make a bold statement and wasn't afraid of something a little out of the ordinary around her bungalow near the Kent coast
Our brief was to create a wildlife garden design that featured contemporary garden design ideas. It was to include a pond with a screened sitting area as a prominent feature and was to be practical and manageable.
Our retired client had travelled widely over the years and it was also to reference different areas of the world she had lived and worked in.
This project gave us a great opportunity to demonstrate our abilities as Contemporary garden designers (with the added challenge of marrying this with wildlife garden design).
We incorporated elements that brought to mind her childhood home in California through use of timber decking, her travels to Japan by incorporating a Yatsuhashi style bridge and from her background as a professional ballet dancer, a sense of theatre.
Our client wished to really experience the seasons visually in her wildlife garden design and approved a brilliant white paint finish for the curved screen walls we designed for the space. These provide a great foil for spring and summer flowers, a solid counterpoint to the soft airy grasses in autumn and are then exposed to emphasise the starkness of winter. As our client walks the gravel and grass paths around the garden they also reveal ever changing views.
The images show that we have moved some way from the stereotypical wildlife garden but it is certainly no manicured show garden. It features productive and useful space for the benefit of the widest range of users. As well as encouraging wildlife it produces vegetables and fruit for the table. Beetles have now moved into the specially designed bug walls and newts into the pond. A brood of Chickens also inhabit the garden. To withstand the human and animal 'traffic' we installed a stabilised gravel system within the broad shingle pathways to create a firm surface whilst retaining the look of natural shingle.
After sunset the 'sense of theatre' comes into play. The cascade is lit to dramatic effect and the walls come alive as the cascade causes the water to reflect rippling patterns across them.
Our garden was also an inspirational location for Alan Titchmarsh's 'Love Your Garden' series on ITV. The tranquil, relaxing pond and the seating area surrounded by green gave Alan themes to follow in a design for Gurkha Hari Budha Magar, who lost the use of both his legs in Afghanistan in an IED incident.
"we were given a good service despite inclement weather. The design process itself was very enjoyable as we felt our ideas were really listened to..." and on their garden - "The garden continues to give us great pleasure and like all good gardens, it allows us to go on experimenting with our plants. It is also rather fun to listen out for the little gasps of surprise from first time visitors! " Mrs V, Herne Bay
BOOK YOUR
FREE

INITIAL CONSULTATION NOW!