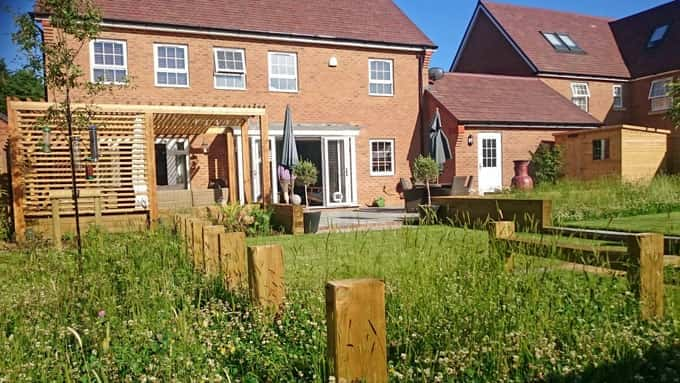 The garden just 5 weeks from completion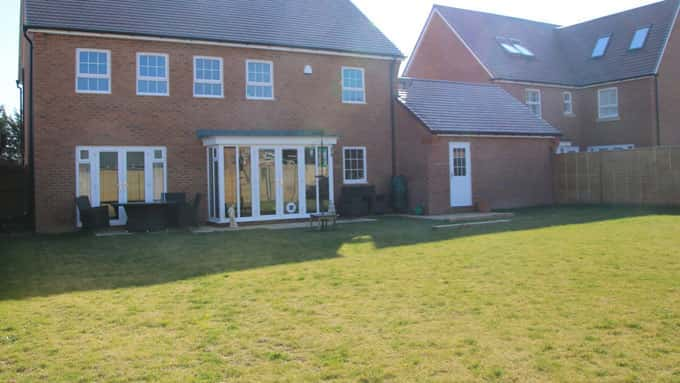 A blank canvas before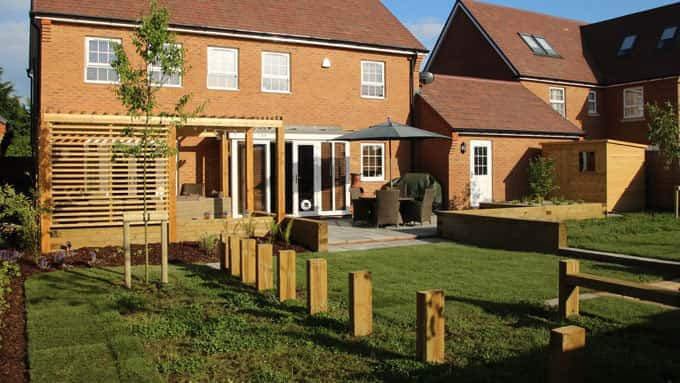 The finished garden with newly laid wildflower turf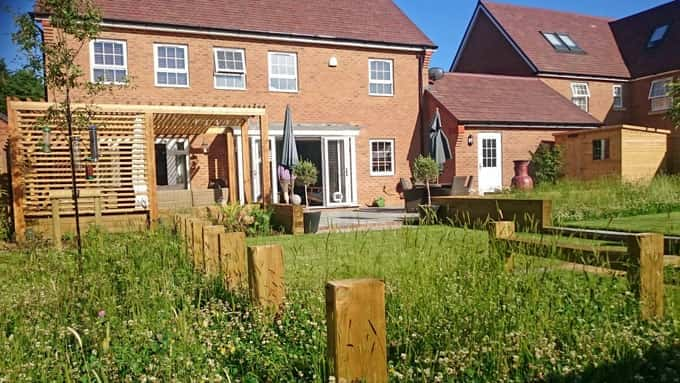 The garden just five weeks from completion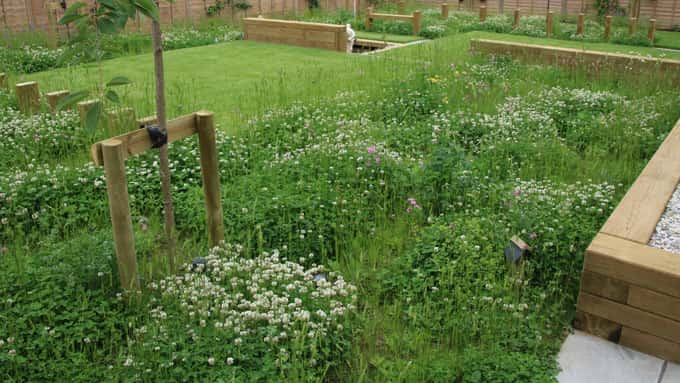 Interplay between meadow, lawn and timber during the first spring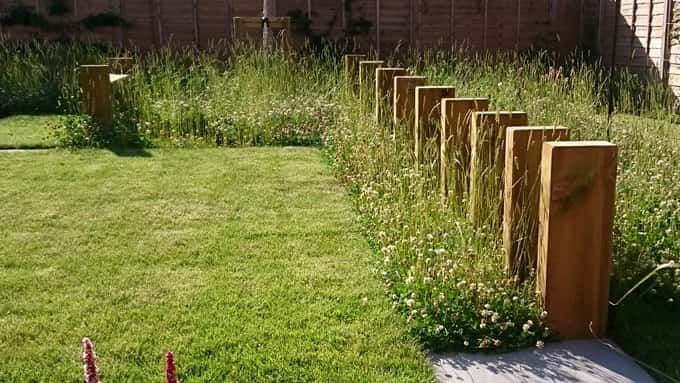 The meadow begins to clothe the standing posts in spring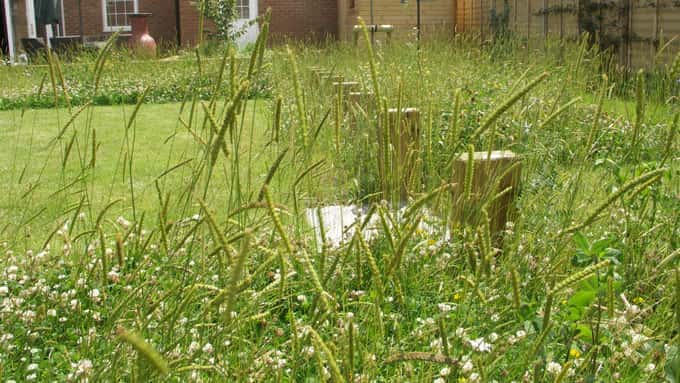 The standing posts dissolve into the summer meadow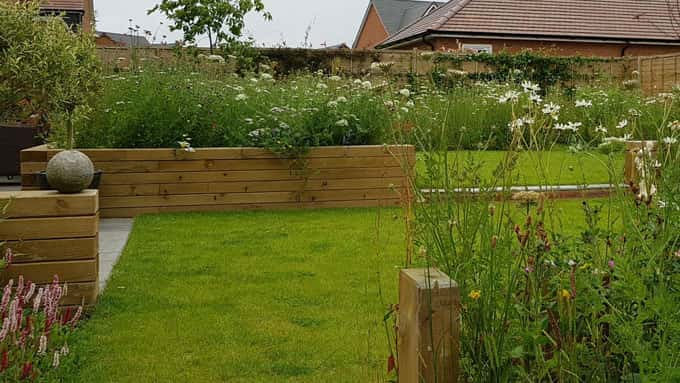 Clean lines with wild flowers - A striking counterpoint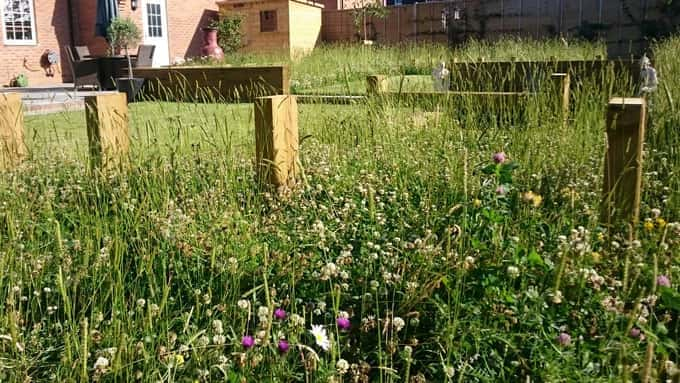 A bees' eye view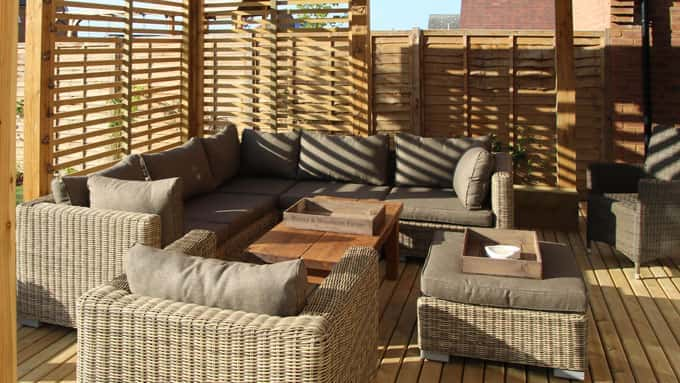 Shade, privacy and comfort with a garden view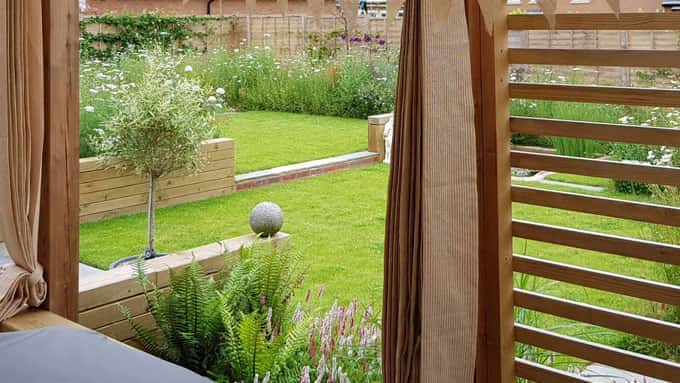 And what a view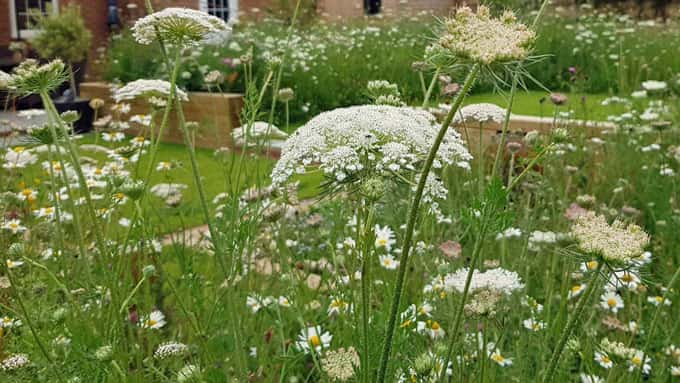 Early summer abundance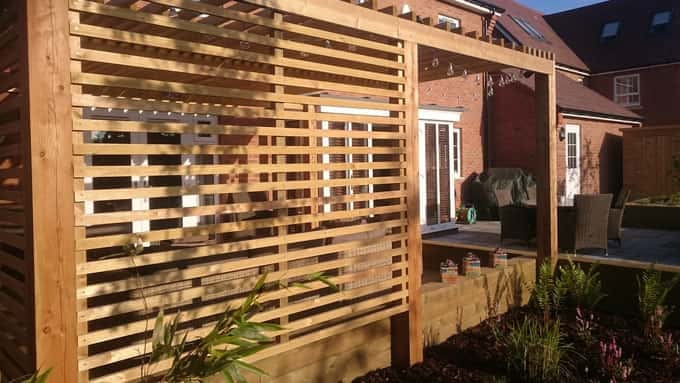 Evening sun on the pergola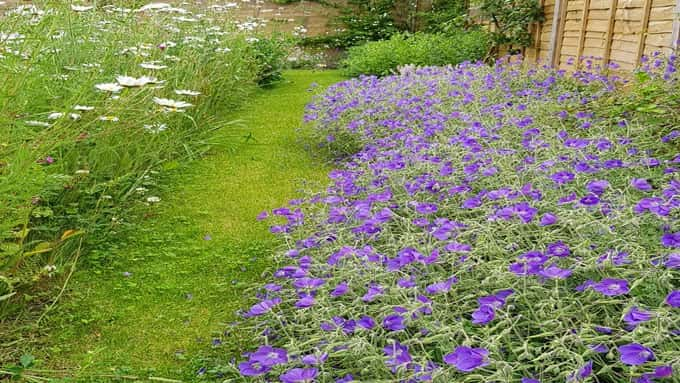 Grass avenues surround the meadow blocks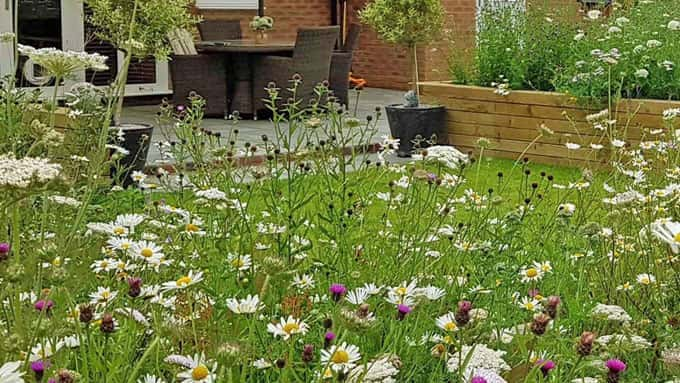 Nature is brought to the door
A Stylish Wilding of a New Home
Our brief was to create a garden for outdoor living that would also attract wildlife, to be contemporary in style yet informal.
The property was a detached house on a new build development in Preston near Canterbury, Kent. The rear garden plot was a large empty rectangle of grass so we had little to guide initial ideas but neither were we constrained by any existing features.
Having worked successfully with our clients on their previous garden some nine years previously we were confident about proposing something quite striking: We designed a patio, deck, pergola, pond and variety of timber elements on a recti-linear grid in such a way that the strong lines would dissolve into blocks of wildflower meadows.
The small pond with cascade now provides a place to sit among the wild flowers and wildlife attracted by the water.
Shade and privacy are provided by the slatted roof of the contemporary style pergola. The containing timber walls are echoed around the patio edge and extend out into the garden. These lines are repeated in parallel via timber standing posts. Each spring the emerging growth of the wildflower meadows clothes the posts with foliage and flower before encompassing them in the summer only to reveal them again in late Autumn.
The meadow itself was created from a specially grown wildflower turf which established with incredible speed and even in its first season was alive with birds, butterflies and bees.
"In our brief to Andy, we requested a wildlife-friendly garden with a contemporary, shaded seating area and space for outdoor dining. It was a big ask – the garden as it was then was nothing but newly laid turf, bounded by stark wooden fence panels. The garden we are now lucky enough to have – thanks to the team at Haywood Landscapes - features an absolutely beautiful meadow, a pond, and a stunning custom-built wooden pergola. Andy's initial design far surpassed our expectations and the finished garden continues to excite and delight us in each passing month. Andy clearly paid close attention to what we wanted and how we wanted to use the space. And his interpretation of our brief was inspired, with a large expanse of meadow taking centre-stage. Rob and Chai began transforming our garden in the very week the Beast from the East arrived. Their diligence, attention to detail, and hard work is second-to-none. It was all finished for us by the Spring and we have been enjoying it every day since then.
We have spent two long, hot summers enjoying the shady haven of our pergola and have been thrilled to welcome an ever-expanding range of bugs, bees, butterflies, birds and wildflowers into the garden (even a resident hedgehog in the first Winter). The meadow really is the star of the show – everybody loves it (wildlife especially!) With our new trees, we also have blossom in the Spring, apples and pears in the Autumn and Witch-hazel flowers in the Winter. We are big believers in the restorative power of nature and having a tranquil space at home where we can enjoy the beauty of the changing seasons has truly enhanced our everyday life.
BOOK YOUR
FREE

INITIAL CONSULTATION NOW!