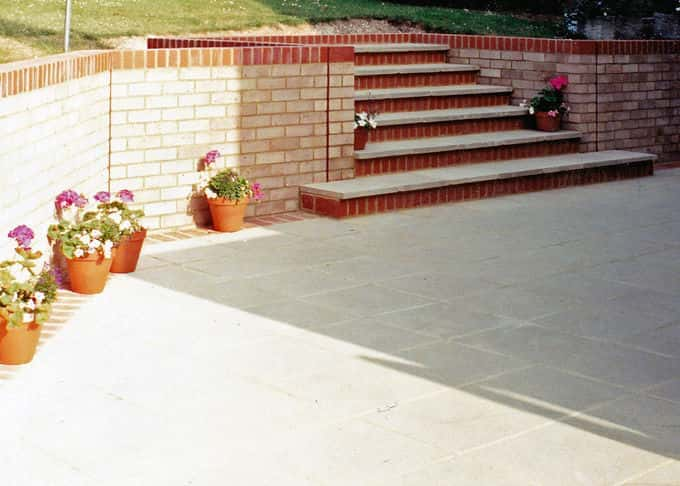 The large terrace and retaining wall we built some 17 years prior to the recent informal garden design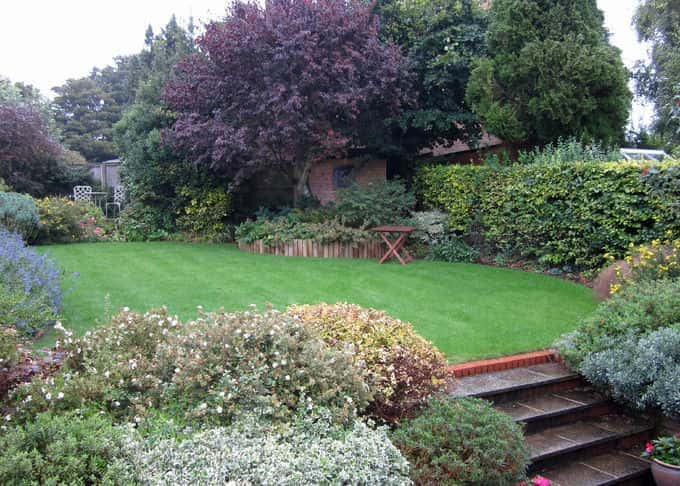 The informal garden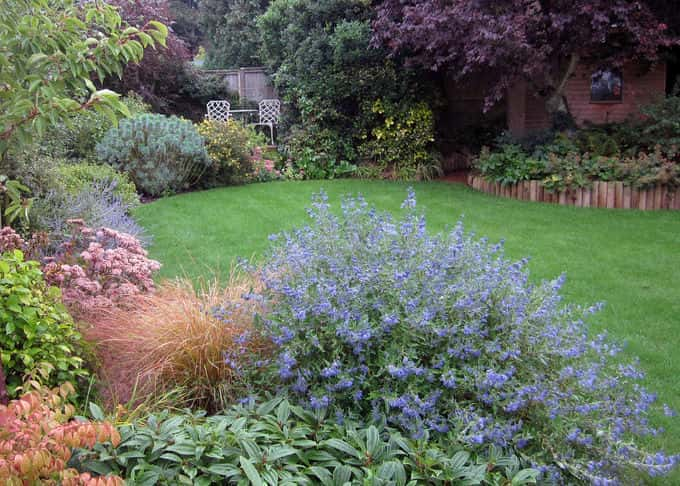 Soft and colourful planting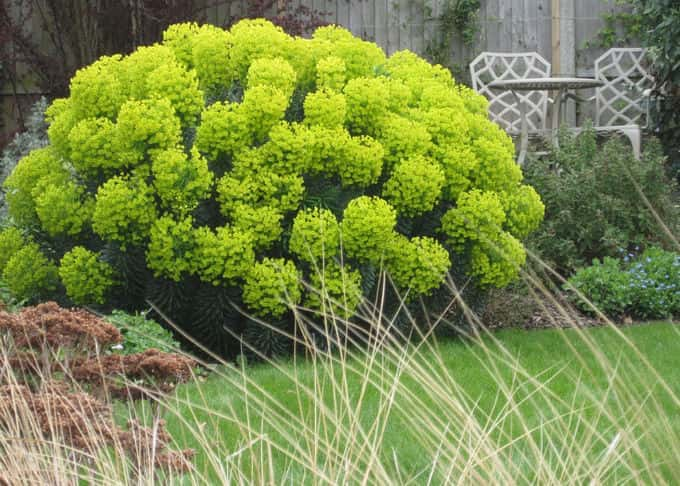 An Euphorbia in all its acid-green glory partially obscures the decked viewing area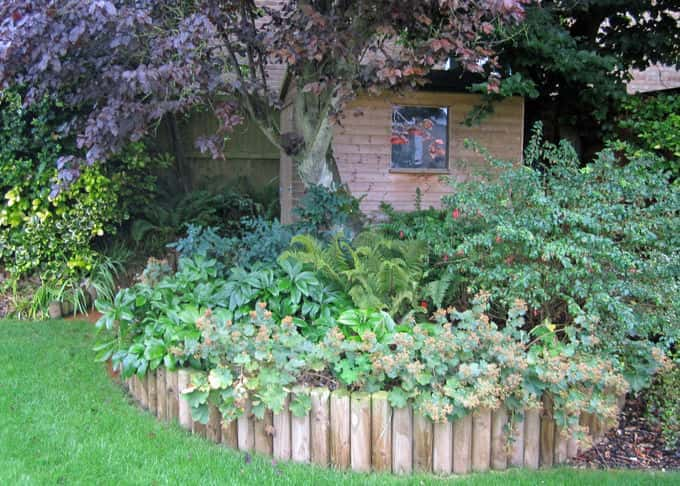 Shade loving plants beneath a mature purple plum tree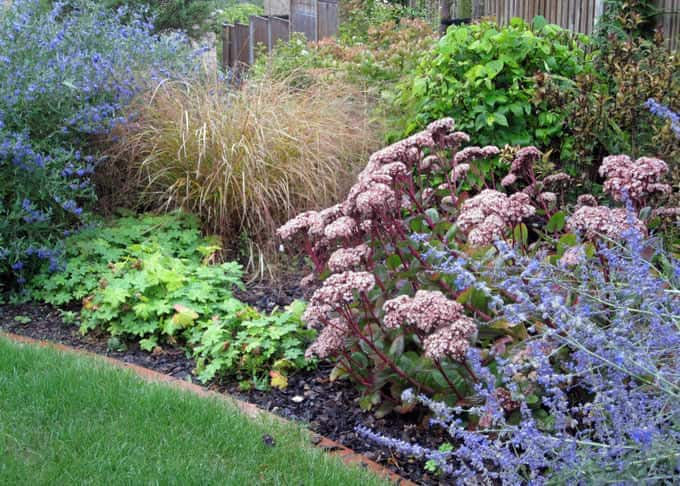 Good plant selection and soil preparation ensures that plants thrive despite the thin chalky soil
An Informal Garden
One of the joys of being in a beautiful garden is that it helps us to relax and reconnect with nature. This is particularly so in a well-designed informal garden which our clients wish for their mature plot.
We were asked specifically to provide generous planting that would thrive on the thin chalk soil, a nice flowing lawn and to integrate some existing mature trees and screening.
Halfway up a bank at the top of the garden, there was a spot from which the clients could admire the view across the surrounding chalk downs if only they could get to it. We needed to make that happen for them.
A garden shed was to be sited in a discreet way so as not to detract from the informal garden style and lastly but importantly maintenance was not to be too high.
We started the design solution by plotting circular arcs from several carefully sited centre points such that the resultant circles merged to create what at first glance seems a free-form shape. This technique of using geometric forms to create apparently organic, free-flowing lines gives strength and a subconsciously identifiable form to an informal garden design that feels comfortable and is very pleasing to the eye.
By setting lawns of circular form within the rectangular space we created borders of a good depth. This in turn gave scope for interesting plant combinations really bringing to life the informal garden design. At just the right spot in the borders, we set simple timber steps leading to a small raised deck where our clients now sit, relax and admire their view of the downs.
Crucial to the lush look of the area was improving the thin chalky soil so that it would sustain a healthy lawn and good plant growth. To do this we needed to strip the shallow topsoil, re-grade the chalky subsoil then relay the topsoil with added organic matter.
A mature 'purple plum' provided a means of camouflaging the shed which we sited behind it. In front, we created an attractive raised bed with ferns, Christmas Rose (Helleborus niger) and other shade-loving plants.
Our clients wanted to relax and enjoy the beauty of their informal garden rather than 'work' in it so we added a brick 'mowing edge' to the lawn which removes the need to trim edges each time the lawn is mown. We also mulched the borders with bark chippings. As well as reducing the need for weeding, mulching helps retain soil moisture for better plant growth.
It is important to us as a company to provide our customers with gardens that will provide them lasting joy and we will always offer our expert advice on how best their gardens can be maintained and cared for.

We explained to our clients that to prevent the lawn from deteriorating over time they must weed, feed and undertake other lawn care measures (just regular cutting is not enough). To do this we recommended a professional lawn care company that attends on an ongoing basis to keep the lawn green and free of weeds and moss. We also visit periodically to help our clients with tree care and other pruning that they are not confident about tackling.
We are very pleased to develop long-term relationships with our customers and feel this reflects the care we take and the quality of our work. Our involvement with these clients actually began some 17 years prior to this project when we set a large terrace and retaining wall with steps into their sloping garden - perhaps the longest interval yet between phase 1 and phase 2 of a garden project!
As you know we are delighted with our garden. We felt your professionalism was first class from start to finish, your gardeners were friendly and very hard-working and we were truly amazed with the transformation from an ordinary square shape garden with its problematic levels to a colourful interesting place with curves and paths through the shrubs and flower beds to areas to sit and enjoy the garden. Best wishes Sylvia Horgan, Bridge, Kent
BOOK YOUR
FREE

INITIAL CONSULTATION NOW!